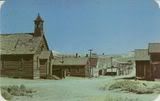 May 20, 1866
Father and I met an interesting man today. His name is Ambrose Quince. We were in the bank, speaking to the Eclipse Bank President, Stephen Pauley, when Mr. Quince introduced himself. I was flattered to have the attentions of two men. I am practicing my coquetry.
Papa says he believes Mr. Quince has taken a fancy to me.
I would never marry someone from here, not even a man like Mr. Pauley who resembles the men in Boston. I want to go home. Besides, Mr. Quince is much older than I am. He must be at least 25.